Hello Beauties,
Ugh, I just can't seem to keep up with posting. This past break hasn't meant bad things though. I have been doing fairly well lately and the month of July was actually "crisis" free with my health. Considering every other month this year has contained at least one crisis with my health, it was a welcome break.
I'm going to do double posts today because there is something I want to write about that has been on my mind for a while and I think I'm at a place now where I can comfortably write about it. But first, let's talk BRALETTES!
When I was a young budding woman, I was so desperate to having bigger breasts, that I almost exclusively wore push-up/padded underwire bras. I picked out and tried on and bought all of my own bras, and because of that, ended up wearing the wrong size for many years. However, when I had my first child, nursing changed things a lot. And that's when I found out that I had not only been wearing the wrong bra size, my bra size had also changed! I used to wear a 36B, turns out I'm a 34D, and was a DD when I was nursing the first time around. Second time, second kid, I stayed consistently a 34D. Even after having gone through the post-nursing deflation, I'm still a on-the-smaller-side 34D. One of the things I worried about as a young girl, was having even a smidgen of a shadow of a nipple poking through my bra. I will not elaborate on this, but I am a childhood sexual abuse survivor, and from a very young age, breasts, the female body, was over-sexualized for me and not feeling full "protected" around my chest made me feel not safe.
This was part of why I felt like I had to look bigger "up top" than I really was. It was difficult for me to accept my body shape and size and it's only been in the past three-ish years that I have been able to get to a place where I not only am okay with the shape and size of my body, but I actually have a decent relationship with my own skin.
With the addition of several more chronic illnesses, having dealt with significant rib pain the past 4 1/2 years, I have found myself surprisingly drifting away from underwire bras. Which, okay let me see if I can get the significance of this across – as a young girl, and most of my current adult life, I have felt a deep drive to make sure that my breasts look big, or at least bigger than they possibly/probably are. So to feel 100% comfortable NOT wearing an underwire/push-up bra is kind of a really big deal. My mindset has shifted, and for the past year and a half, my sole focus on my body has been comfort; still adoring and loving staying fashionable, but comfort is definitely key.
I went to visit a friend in April and she mentioned that she wears just bralettes now. I was still wearing underwire bras, but the idea of wearing bralettes began to get more and more appealing. I had my gallbladder removed 2 1/2 years ago but my ribs still both me on the right hand side. I strongly suspect my endometriosis has crawled up there, but eh that's a topic for another time.
Anyway, since April I have kept my eyes peeled for bralette sales and specifically kept a look out for padded bralettes. I absolutely cannot do unpadded. Which is a bit annoying since there are some gorgeous UNpadded bralettes out there! I have managed to find some really good and comfortable bralettes. I don't believe I've spent more than $15 on one pair, most $10 or less (or even for a few, $5 and less). I used to feel really uncomfortable about having any bra lines showing through my shirt, but one of the things I really adore about the bralettes I have, is most have gorgeous lacy straps, and when those show around my neckline I feel like it doesn't matter if a texture shows through my shirt.
Really quickly though before I start sharing links, there is something super annoying about sharing my joy of bralettes with you. Bralettes are made with A-C (and some D's) cups in mind. Anyone really bigger than a D/DD will find bralettes aren't supportive enough. This is really frustrating to me because I'd love for all of my friends to thoroughly enjoy the comfort I've discovered in bralettes. So keeping that in mind, I am always on the look out for a supportive AND pretty bralette for the bigger gals. 
Okay, so! Here are links and references for bralettes I've found that are super comfortable, easy to wear, and decently priced.
Let's look at American Eagle Aerie first. I have to say I've been pleasantly surprised to see some of Aerie's latest ad campaigns. I'm glad to see more body types and presentations being shown in their ads. That being said, I kind of really hate AE's clothes. I feel like their jean sizes are getting smaller and smaller. BBbbuuuttt, that's a gripe for another time! I have had at least one Aerie bra in my drawer at almost all times. I really liked some of their older styles, but lately, I did get two bralettes and it was worth it grabbing them while they were on sale!
Aerie Bralettes (all images from American Eagle ae.com and all prices current of post time)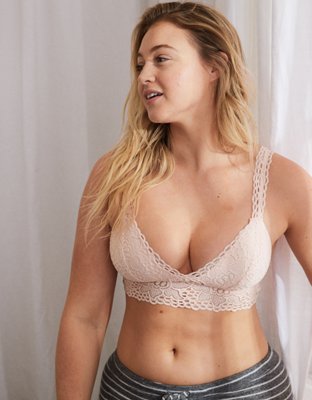 Aerie Boho Padded Bralette – on sale for $17.97
(there are consistently deal codes, so I'd recommend waiting for one of those codes to show up)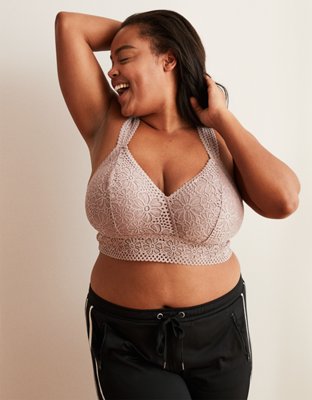 Aerie Lace Racerback Bralette – on sale for $14.97
– uhm, so the model wearing this one is definitely a much larger size than a C or D cup!! This makes me excited! I would love to hear if any of my friends who do not fit a typical bralette size can fit comfortably in this particular bra!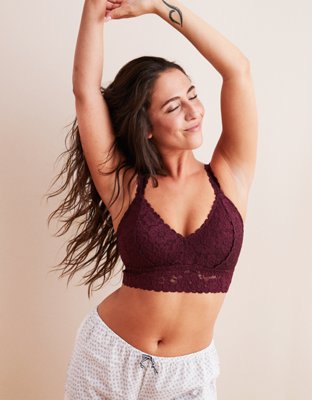 Aerie Softest Lace Classic Bralette – on sale for $13.77
– this one is actually NOT padded, but I happened to have extra removable cups I wasn't using and cut two small slits on the lining of this bra and just wear it with cups. The cups do shift funny since the bra wasn't made with removable cups, but I'm going to try to stitch something in place to keep the cups where they need to. BUT! I will say that this bra in particular is incredibly soft and comfortable. I really like that it is convertible – i.e. regular straight straps can be turned in to an "x" back.
Here's the link to all of Aerie's bralettes! I am loving the selection, and the one thing about AE or Aerie bras, they are made to last…at least for more than a year!
Target Bralettes – (all images from Target.com and all prices current of post time)
   Xhilaration Longline Bralette – on clearance for $11 (but I did see several IN STORE for $4-5)
– I have this bra in a navy blue (found at a thrift store) and the mint. This bralette is very comfortable, but the only thing that can get annoying is because I'm short-waisted, the longline part rolls up when I wear it. Not enough for me to not want to wear the bra, but enough that I adjust the bra several times during the day if it bothers me.
  Gilligan & O'Malley Lack Back bralette – $14.99
– I do not have this bra right now, but I love the comfort/sleep bra look of it. It is padded, and looks like it would fit smoothly under a top.
  Gilligan & O'Malley Nursing Bralette – $16.99
– I will never need a nursing bra again, but for my nursing mama friends, I have LOVED Gilligan & O'Malley nursing bras in the past!!!
  Xhilaration Push-up Racerback Lace Bralette – $12.99 with a 15% coupon code for online and cartwheel code in store
– I have this bralette in a gray and I should have gotten a Large instead of a Medium. It just doesn't fit as well as my other bras. It is still comfortable, but I also feel like if I were to get a bigger size it would fit in the cup area, but the band would be way too loose.
Here's a link to all of Target's bralettes 
Aeropostale Bralettes – (all images from aeropostale.com and all prices current of post time)
  LLD Classic Lace Bralette – $12.00
– this bra runs small and it about the same quality as the Aerie bralettes
 LLD Geo Lace Racerback Bralette – $24.50
– I didn't get this bra, but one similar to it, again, I'd say they run small, but are quite comfortable. Also, I'd say this isn't worth spending almost $25 on. Wait till it's on sale.
Here's the link to all of Aeropostale's Bralettes 
Those are all of the bras I either own, or have tried on in store. I know there are a few other that are considered "cult favorites" but when I realized that first of all, they're not padded, and they're pricey, I didn't want to share a link to those. I am all about affordable fashion and paying over $30 for a bra that I wouldn't even be comfortable in is not worth it. Let me know what you all think, or if you have an obscure place to get bras and would like to share!
**This post may contain affiliate links. This means I get a percentage of whatever you purchase through a link I've posted at no extra cost to you. I use affiliate links to help a little with keeping this blog up and running.